I recently purchased a Kobo ereader, and as such here's a review. I was drawn to the idea of ebooks due to their convenience- cramming a large number of books into a small device struck me as a great idea. I had a look around at the various ereaders on the market, looking mostly at the Kindle and the Kobo. I decided on the latter for two reasons. The first is that I could physically look at one in stores (the display ones had a habit of freezing up, though since buying one it struck me that the magnets used to keep them on the displays might be messing with them somewhat) and that the kobo can open pdfs, which I really like the idea of.
The Design
For those of you looking at getting one, I recommend getting the black one. The white one has a green pad on it, and it just doesn't look as nice as the black one.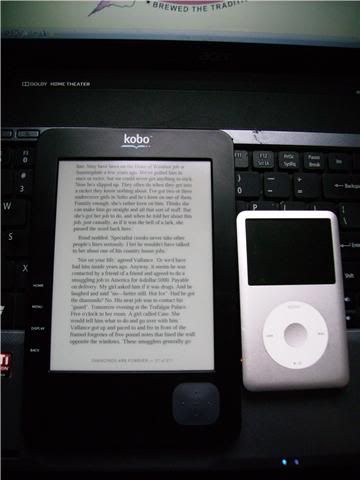 Ooh, how nice. Anyway, the screen is smallish but a nice size for what it's used for. It has a quilted back which is comfortable in the hand. The screen is great to read- one advantage ereaders have over tablet PCs is that it doesn't have backlighting and its own unique method of displaying pages, which is really easy on the eyes (I hate reading off computer screens) and is for me the greatest selling point for ereaders.
The Reading Experience
My feelings are mixed but I'm generally quite happy with it, My only gripe is that it takes a while for books to load up, about 5-8 seconds. Since the kobo uses what's called 'eink' technology, it takes a bit less than a second for a page to makifest itself on the screen. It's about how long I'd take to turn a physical page so I'm not too fussed about that. As mentioned above reading off the screen is an enjoyable experience.
There isn't much choice in fonts, just 'serif' and 'sans serif'. I chose the serif. They're pretty bog standard fonts which I suppose is best. I would prefer if there was some choice when it came to fonts though. There are six choices when it comes to font size, the one displayed above is 'medium', which is the fourth biggest font size.
Software
This is a little annoying but not much. Kobo comes with its own software to access its library. This is straightforward- buy books, upload them to your kobo using the software, you're done. Kobo only reads the standard ebook format (so no amazon books can be read on it), which means that you can buy from a bunch of different online retailers like Barnes and Noble, Sony (my favourite), and so forth. These tend to come with their own software to download their books with.
There is a simple solution, though. I have an Adobe program called 'Adobe Digital Editions', which I drag and drop all ebooks I buy elsewhere onto. It centralises my non-kobo bought library, and it interfaces with the Kobo very well, so I just update new books through this software, and bingo, it's done. It's a bit annoying because I still have to have all these superfluous ebook downloading software on my computer, but this seems to be the way the ebook retailers prefer to do things.
Small Gripes
There are a couple of issues I have with the Kobo, though. The menu has an 'I'm Reading' section, which brings up books you are part way through. However, documents (so pdfs) you are in the middle of don't appear in it. You have to scroll through your list of documents to find the one you want, and since I have quite a few documents, it's a little annoying. When I find out how to make a suggestion to the Kobo people I'll do so.
The software thing is annoying. I would prefer it if I could drag and drop ebooks I bought elsewhere onto the Kobo software, but I suppose it's an attempt to get people to buy from them as much as possible. That's moot if the books aren't available (James Bond!)
There are still some coding issues with the ebook format.
Interesting Times
has all the footnotes at the beginning for some reason and in
Diamonds are Forever
instead of having dollar and pound signs it would have something like '&dollar500', which is disappointing.
It has bluetooth but not wireless, so I have to update with a cable. This isn't much of an issue though.
Overall
I quite like the Kobo. It's an enjoyable piece of technology that has the ability to hold heaps of books that I want to read. For me being able to read pdfs is fantastic because I have a bunch of books in pdf format that I have wanted to read but have been held back by the fact that I hate reading books offf a screen. While ebooks are not as absurdly cheap as they are made out to be, they are still cheaper than their physical counterparts (
Diamonds are Forever
is $11 instead of $15 physical)- but cost really isn't the overriding appeal of the format. It's the convenience and lack of weight that really sells it for me, and is the reason I'll keep getting more ebooks to go through.
Basic Information
Internal Memory: 1GB, can be expanded with SD cards
Screen Resolution: 600x800
Weight: 221g
Wireless connectivity: Bluetooth
Shades of Grey: 8